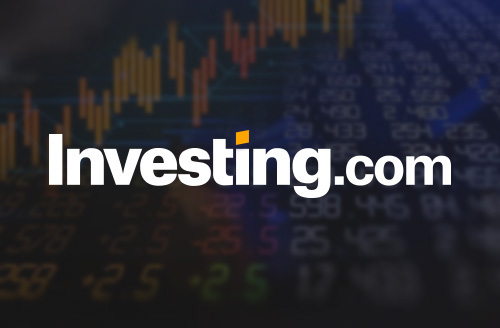 With U.S. economic data showing strength and a growing roster of states re-opening their economies quickly after lockdowns, investors are anticipating another strong equity market rally in the coming week.
The reopening trade was on display during the past week, especially Friday when stocks surged on a robust , which had been expected to show a loss of 8.3 million jobs. The broke above its record high set on Feb. 19, and the was just 1.1% away from turning positive for 2020.
Investors will be able to derive additional clues about the economic revival during the coming week in which the U.S. Federal Reserve will hold its and the latest will be released. Below, three important stocks which are currently on our radar:
1. J.C. Penney
Shares of J.C. Penney (OTC:) may continue to move higher in the coming week after reports that Sycamore Partners is in preliminary talks to buy the bankrupt department store chain. Sycamore is considering purchasing J.C. Penney outright or making an investment in the company, , citing sources.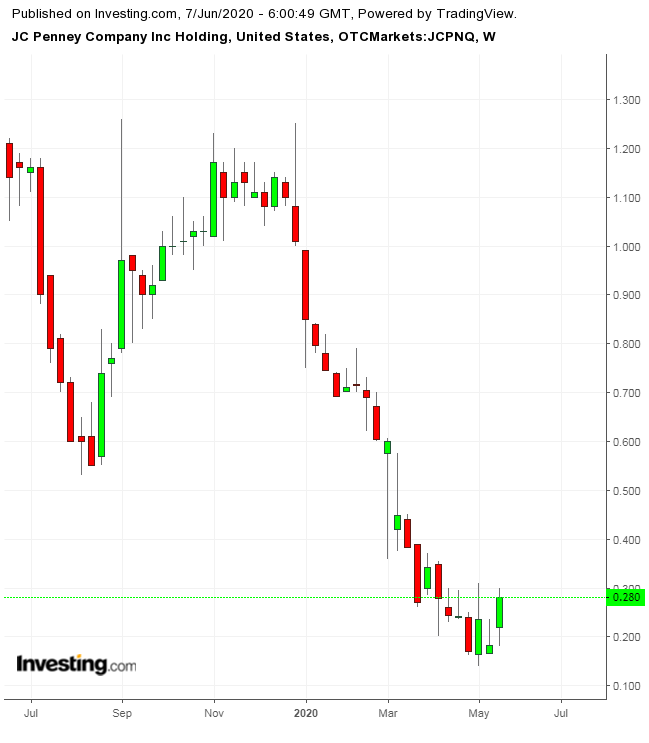 J.C. Penney Weekly
J.C. Penney shares surged 55% to $0.32 on Friday after the news broke. The deal, could give the Plano, Texas-based retailer the lifeline it desperately needs after the 118-year-old department store filed for bankruptcy last month.
Burdened by its heavy debt load, the brick-and-mortar retailer was unable to transform its business model amid the e-commerce onslaught and remain relevant as consumers rapidly shift their buying patterns.
While the department store plans to reorganize and emerge from bankruptcy proceedings after eliminating several billion dollars of debt, it will also explore a sale as part of the terms of its new financing, the company said last month.
2. American Airlines
As signs of a V-shaped economic recovery continue to proliferate,  beaten-down airline stocks are starting to jump. That trend could continue if there's more positive economic news in the upcoming week.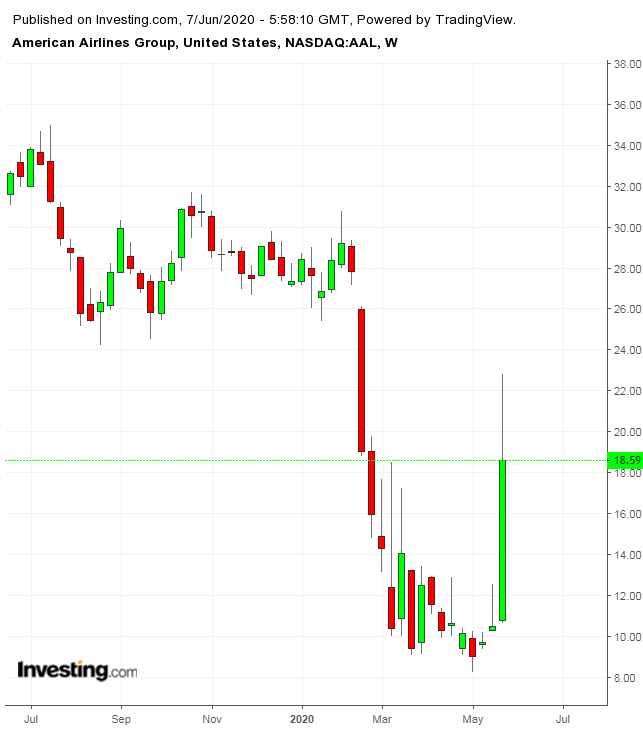 AAL Weekly
American Airlines Group's (NASDAQ:) stock surged the most on record on June 4—popping by 45% intraday, closing up 42%—after the carrier said it would boost July flights by 74% compared with June. The busiest days next month will have about 4,000 flights, up from 2,300 currently, said Vasu Raja, American's senior vice president of network strategy in a Bloomberg report.
The July figure is equivalent to 40% of capacity a year earlier, compared with 30% in June, the airline announced Thursday. Capacity was even lower in May, after a devastating collapse in travel spurred by the COVID-19 pandemic.
3. Adobe 
Another stock that could surprise this coming week is Adobe Systems (NASDAQ:). The maker of Photoshop will release its fiscal 2020, second quarter earnings on Thursday, June 11, after the close. Wall Street expects $2.32 EPS and $3.16 billion of revenue.
Chief Executive Officer Shantanu Narayen has made several marketing and e-commerce product acquisitions in the past two years in order to boost revenue, which at least 20% each quarter since 2015.
Millions of people rely on Adobe's creative and document-handling apps. The company said recently its Creative Cloud apps have been downloaded 376 million times, and users opened 250 million PDFs with an Adobe program in the last year.
The San Jose, California-based Adobe, which competes with Salesforce.com (NYSE:) in both the marketing and e-commerce technology segments, is trying to facilitate growth by expanding its business offerings while strengthening its core, creative software business.
Adobe shares have had a powerful rally since the March low after the pandemic-induced sell-off, surging about 19%. The stock closed at $392.90 on Friday rising more than 1% for the day.