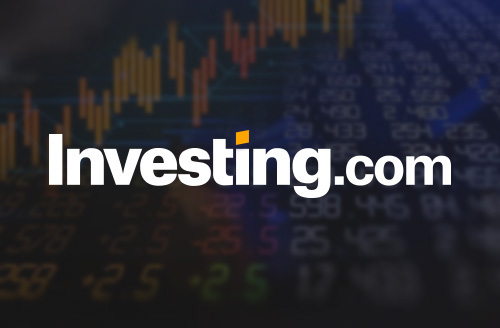 Investors continue to focus on V-shaped recovery hopes as well as positive data
US equities facing technical resistance
Brent clings to $40 level
Key Events
Faith in the alternative economy, fueled by generous central bank and government stimulus, pushed US futures for the , , and higher on Wednesday, along with the majority of global shares, for a fourth day of gains. Investor confidence in this narrative continues to offset concerns over the state of the real economy, which could take quite some time to recover amid the ongoing increase in COVID-19 cases worldwide.
Yields were flat, the dollar edged lower along with gold and . Oil was little changed.
Global Financial Affairs
Futures on the S&P 500 rose once again this morning, rebounding from an earlier decline, as yesterday's surprise US print provided justification for bulls to hold on to optimism of a quick economic recovery, despite today's disappointing Japanese data.  
Banking shares and automakers boosted the pan-European which has advanced slighty, though it's still stuck below yesterday's intraday high. It has, however, retreated from the levels of Thursday's falling gap.
Most Asian indices finished marginally up after a lackluster session. Australia's outperformed, (+0.8%). The session laggard, Japan's , (-0.6%), was pressured by the poor and figures released this morning. South Korea's ended barely higher, (+0.1%), as escalating tensions with its northern neighbor weighed on the regional benchmark.
On Wall Street yesterday, American indices all gained. The mega cap added more than 500 points after Fed Chair Jerome Powell, during before the US Congress, indicated more fiscal stimulus will be required to kickstart a slow recovery.
That may sound completely ironic—investors bidding up stock prices after being told that the actual economy is doing poorly. Nonetheless, we've grown accustomed to QE-addicted investors becoming more energetic at the mere suggestion that additional stimulus might be forthcoming.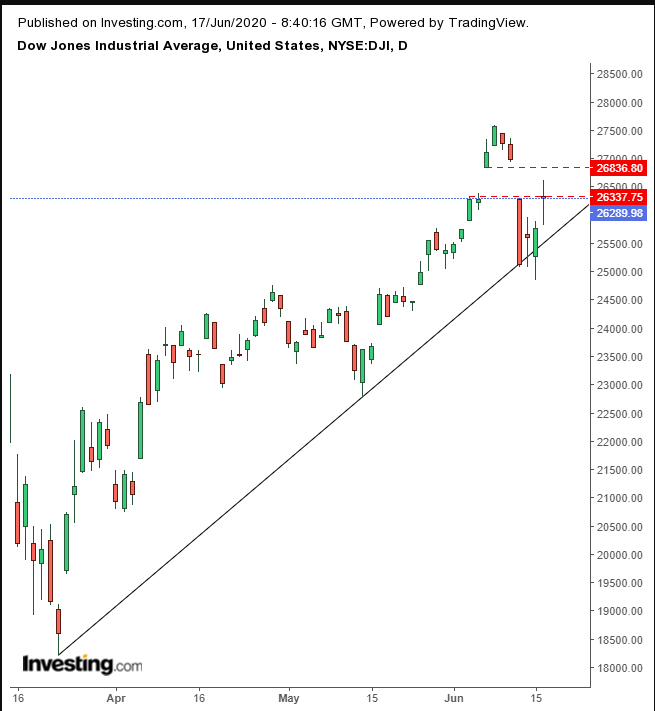 The 30-component Dow jumped at the open. However, after much sound and fury accompanied by multiple up-and-down swings, the index finished flat, within the resistance provided by the Island Reversal.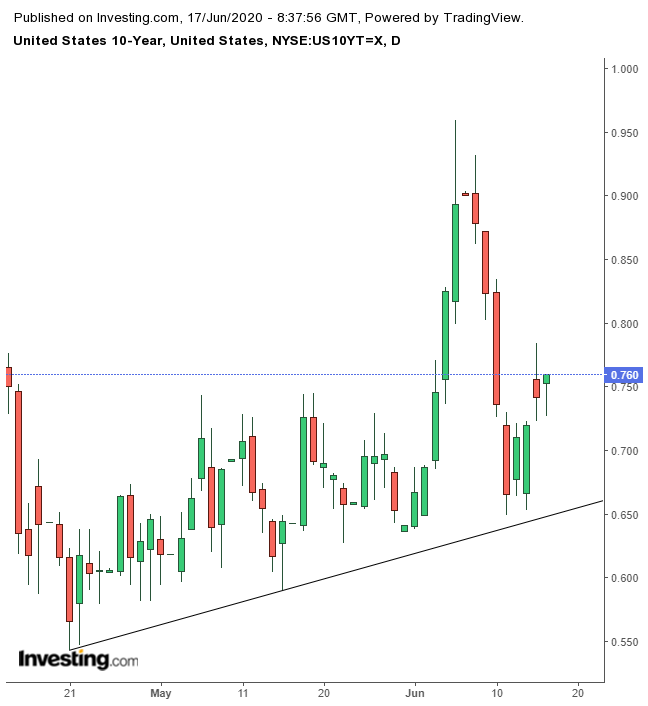 UST 10Y Daily
Yields, including for the benchmark Treasury, snapped back from their recent lows, to hit their highest in a week.
The was little changed
DXY Daily
Technically, the USD is trading within a rising flag, bearish after the preceding, steep decline.
is edging higher, rising for a third day.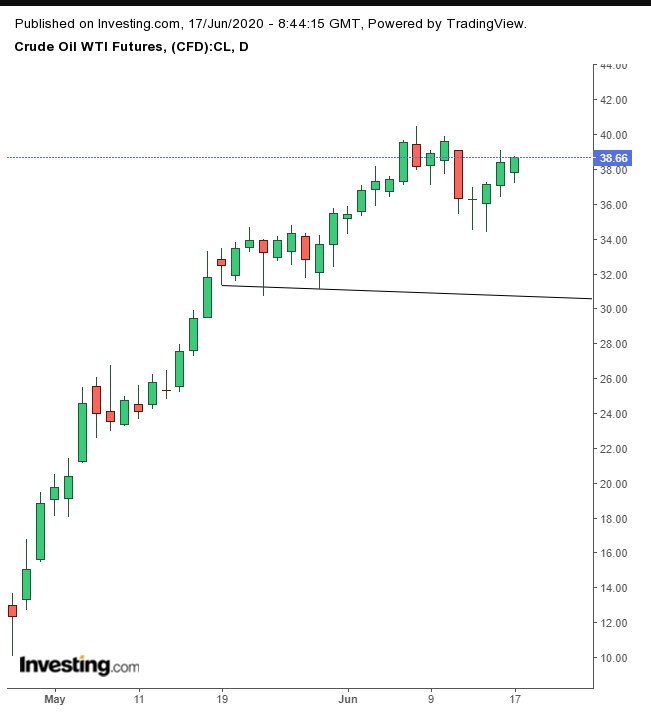 From a technical perspective, WTI may be forming a H&S top.
Up Ahead
Fed Chair Jerome Powell delivers the second day of semiannual testimony to Congress, today, in front of the House of Representatives.
The New York Stock Exchange will allow a limited number of market makers to return to its trading floor on Wednesday.
Policy decisions from the and the are due on Thursday.
Market Moves
Stocks
Futures on the S&P 500 Index climbed 0.2%.
NASDAQ futures increased 0.3%.
The Stoxx Europe 600 Index gained 0.3%.
The rose 0.2%.
Currencies
The Bloomberg Dollar Spot Index dipped 0.2%.
The gained 0.2% to $1.1285.
The was little changed at $1.2569.
The was flat at 107.31 per dollar.
The weakened 0.6% to 1,213.97 per dollar.
Bonds
The yield on 10-year Treasuries dipped one basis point to 0.75%.
The yield on Treasuries fell less than one basis point to 0.20%.
Germany's yield gained five basis points to -0.37%.
Britain's yield climbed less than one basis point to 0.21%.
Commodities
is down 0.83%, to $40.60
Gold is lower by 0.87%, to $1,721.50