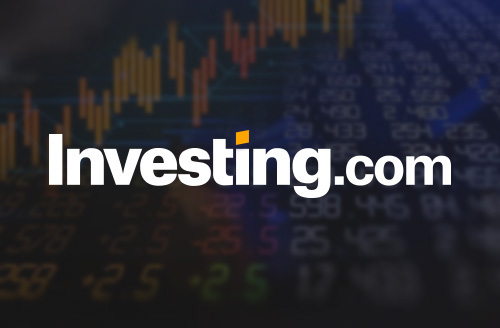 As the largest U.S. social media companies face a variety of uncertainties—including a slowing digital ad market and more intense regulatory scrutiny—investors have started looking to diversify their investments in the digital space. The goal: to take some exposure in smaller stocks that might offer upside even after the economy is back on track.
In this group, we've short-listed Snap (NYSE:) and Yelp (NYSE:). Here's a deeper look at each:
Snap: Turnaround Gaining Momentum
The operator of photo-sharing app Snapchat was one of the most successful turnaround stories of 2019, after it started in recent quarters. During the pandemic, that growth has picked up additional momentum as more people turn to messaging apps to stay connected.
Average daily users reached 229 million in the first quarter, while sales jumped 44% to $462.5 million. Chief Executive Officer Evan Spiegel said his company has enough cash to continue hiring and investing in research and development despite the economic slowdown caused by COVID-19.
"The many difficult transitions and changes we made as a business over the past few years have positioned us well for the challenges ahead," he said in April.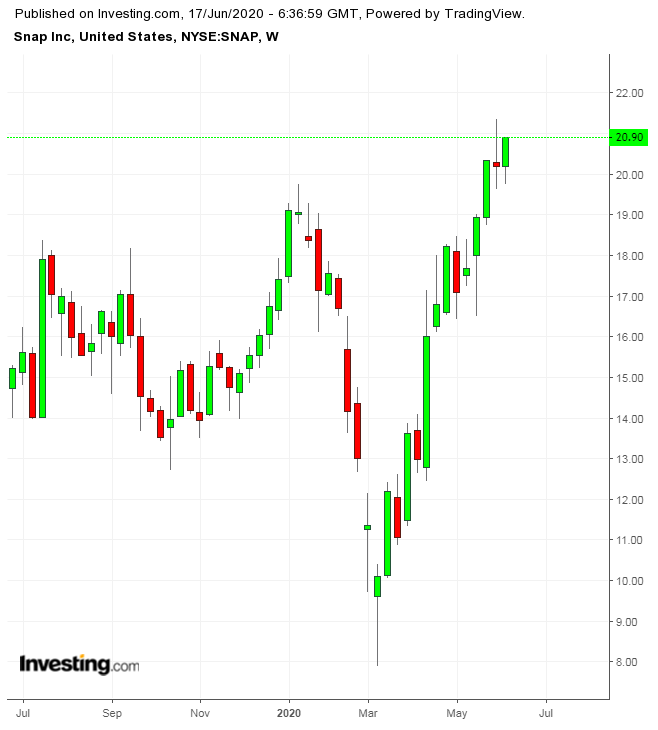 Some analysts agree. They're recommending investors to stick with Snap's stock, which has gained 30% this year. It closed on Tuesday at $20.90, up 0.72% for the day.
"User growth continues to accelerate, while company execution has seemingly turned the corner," said Bank of America analyst Justin Post in a recent note. Though its valuation is high,  Snap "has a clear path ahead to better monetize its highly engaged and growing user base."
One major growth driver separating Snap from other social media players is its augmented-reality face filters. These features, such as pink furry ears and other image add-ons, were being deployed, on average, by 75% of users every day during the first quarter, attracting advertisers.
"The app, mainly used for friends to chat through photos that disappear, has also become more popular for other, more solitary features, like games and short TV series on the company's Discover page," according to a recent Bloomberg analysis. "With TV studios losing the ability to film traditional shows, the short-form content might see greater adoption."
Yelp: Hurt By Small Business Exposure
Shares of Yelp, a social app that publishes crowd-sourced reviews of businesses, tell a different story. The stock has been hammered as small businesses, such as restaurants, travel agencies, and coffee shops— mainstays of the app's listings—remained mostly closed during the first quarter, because of lockdowns in much of the western world.
Fears that economic recovery in the post-pandemic world could be slower than anticipated could also weigh on the stock going forward.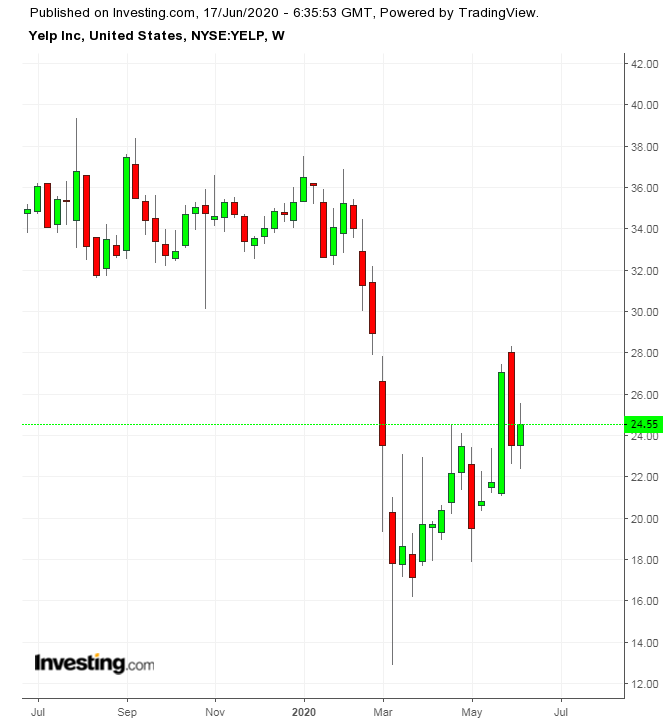 Though the stock closed yesterday at  $24.55, up 0.61%, shares are down 27% for the year.
Like a digital phonebook, Yelp is essentially a listing of businesses. Companies don't pay to be included in the listing, but Yelp offers them paid packages to promote their visibility in user searches on the platform.
That model, which mainly relies on revenue from small businesses, has come under severe pressure as the coronavirus pandemic persists and will be closely linked the success, or delay, of the re-opening economy.
Restaurants, for example, accounted for 14% of Yelp's ad revenue in the . They were also the largest category to receive user reviews, coming in at 48% of total evaluations. The beauty and fitness category accounted for 12% of the company's total ad dollars during the same period.
Unlike Snap, Yelp doesn't offer many additional tools with which to keep users on the platform, or to bring the traffic back in order to spur sales. For these reasons, Yelp is currently laying off staff and cutting salaries in order to survive this severe downturn for small businesses.
That said, Yelp is a better bet if you strongly believe a potential vaccine is on the horizon and will bring things back to normal within next year, allowing  restaurants and nightlife to operate freely once again. 
Bottom Line
Considering current health and economic risks, Snap is better positioned to take advantage of increased user-engagement now and in the coming years. Yelp, on the other hand, is a bet on a full economic recovery. And right now the timing of small business normalization, a crucial component of the service, remains hard to predict.