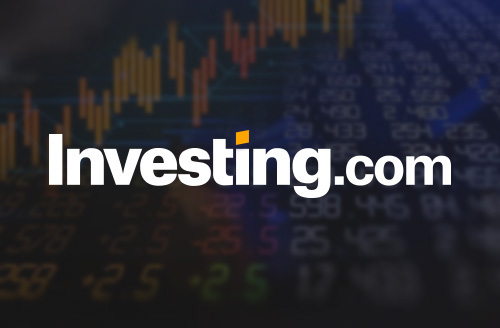 US futures resume yesterday's late-session slump
European stocks open lower
South Korea's KOSPI enjoys relief rally
Gold posts highest price in almost 8 years
Key Events
US futures for the , , and , along with European shares, fell on Wednesday, as mercurial market sentiment flipped, moving away from yesterday's euphoria on stronger-than–expected economic data to today's of a global second wave of the COVID-19 pandemic.
Oil slipped, gold gained and the dollar held steady.
Global Financial Affairs
Earlier, contracts on the S&P 500 Index opened lower, but traders briefly collected themselves and managed to push prices into positive territory albeit temporarily. As of this writing all US futures have extended their declines.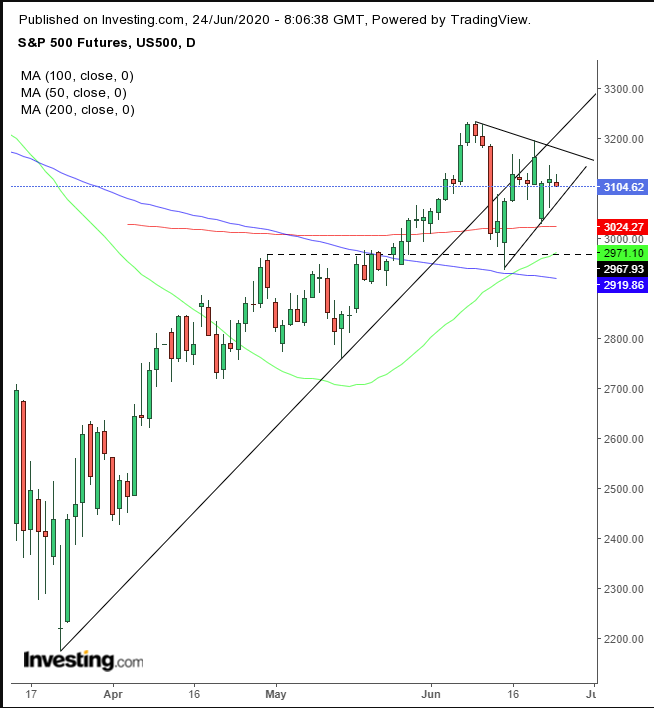 However, from a technical perspective, SPX futures have been developing a pennant, supported by the 200 DMA. An upside breakout would complete this continuation pattern, which would also help the 50 DMA cross above the 200 DMA to trigger a golden cross, perhaps the most well-known bullish signal.
Note: the 100 DMA separates the period of time when the 3,000 level was resistance, from April 30 to May 22, before it became support, as confirmed on May 26, 27 and June 15.
The fell at the open, after closing at a near 2-week high yesterday. Perhaps more noteworthy, however, defensive stocks underperformed, generally a sign of risk-on.
Asian indices were mixed if not flat, as traders attempted to find the right balance, following another Wall Street rally amid persistently rising COVID-19 cases in both the US and the rest of the world.
South Korea's , (+1.4%), stood out, after North Korean state media said its leader, Kim Jong-un, had "suspended military action" against the southern neighbor. Defense-related shares suffered.
On Wall Street yesterday, stocks climbed for the second day but gave up session highs on reports of rising coronavirus cases, which have now topped 9.2 million worldwide. Affected countries are now debating re-instituting lockdowns, which could limit the much-focused-upon economic restart.
The advanced 0.4%, trimming a 1.2% intraday high. The notched yet another a fresh all-time high.
Yields, including for the US Treasury, were flat, after they gave back a modest rally.
In the aftermath of a two-day selloff, the found its footing.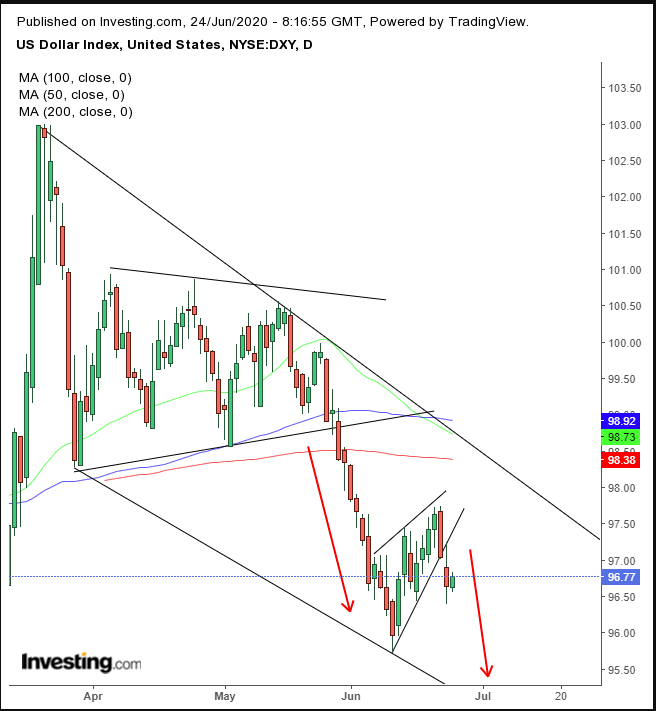 From a , the USD provided a downside breakout to a rising flag, bearish after the 4.3% plunge in just over two weeks.
, having reached its highest levels since 2012 on a backdrop of dollar weakness, is in focus.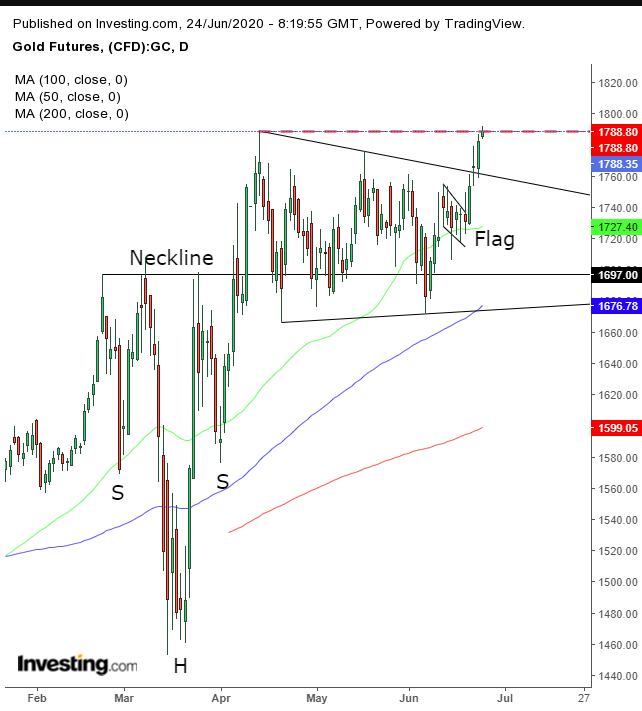 Gold Daily
Since the dollar is expected to head lower, the yellow metal is on a path to retest record highs, having of a range. Just beware a pullback before the journey toward all time highs commences.
is falling for a second day. It has slipped below $40, after having closed above that mark for the past two days, a level it hadn't hit since March 6.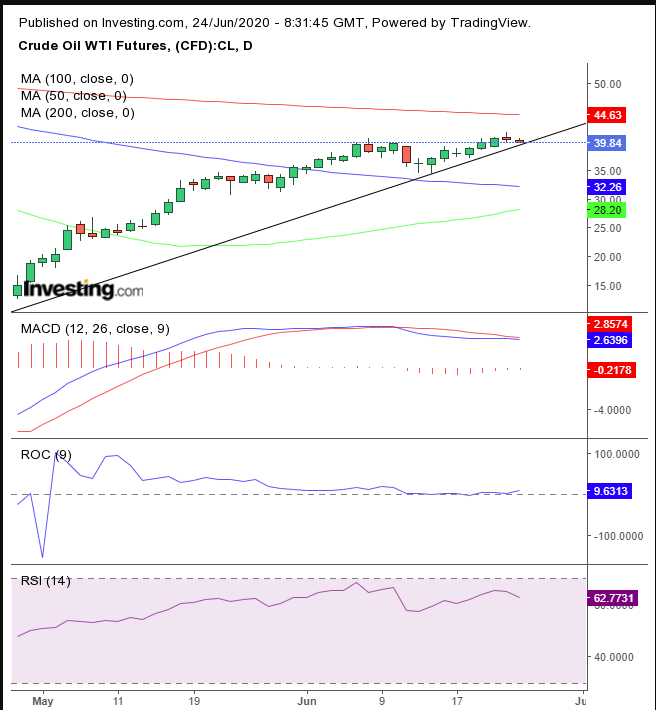 However, WTI's advances have been growing weaker, as can be seen via momentum indicators. The MACD has also provided a sell signal.
Up Ahead
The IMF will release new 2020 growth projections on Wednesday.
U.S. , and data are due Thursday.
A rebalance of Russell indexes will occur on Friday.
Market Moves
Stocks
The Stoxx Europe 600 Index declined 0.5%.
Futures on the S&P 500 Index advanced 0.1%.
NASDAQ futures climbed 0.3%.
The increased 0.5%.
Currencies
The Dollar Index rose 0.2% to 96.85.
The was little changed at $1.1309.
The declined 0.1% to $1.2503.
The weakened 0.1% to 106.60 per dollar.
dipped 0.5% to $0.6457.
Bonds
The yield on 10-year Treasurys climbed one basis point to 0.72%.
The yield on Treasurys advanced one basis point to 0.19%.
Germany's yield gained two basis points to -0.39%.
Britain's yield climbed one basis point to 0.221%.
Commodities
increased 0.5% to $42.83 a barrel.
Gold strengthened 0.1% to $1,770.31 an ounce.
advanced 1.5% to $100.82 per metric ton.