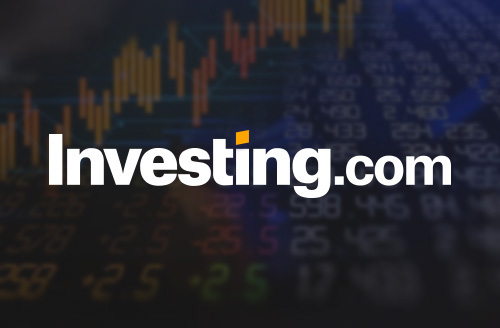 Investors should brace for another volatile trading week in the U.S. where COVID-19 continues to spread at a time when investors were hoping for a quick economic recovery.
Stocks fell sharply on Friday after Texas rolled back some of its reopening measures as coronavirus cases continued to spike there. Florida, where new COVID-19 cases surged to a record high on Friday, banned drinking at bars again in an effort to slow the spread.
The closed 730.05 points lower, or 2.8%, while the slid 2.4%. It was the second weekly drop for the major average within three weeks. The Dow and S&P 500 fell 3.3% and 2.9%, respectively, for the week and the lost 1.9% over the same time period.
Beyond the still-spreading contagion and its impact on markets, here are three individual stocks we'll be focusing on during the upcoming week:
1. Facebook
Social media giant Facebook (NASDAQ:) is back in the headlines, but, unfortunately, for all the wrong reasons.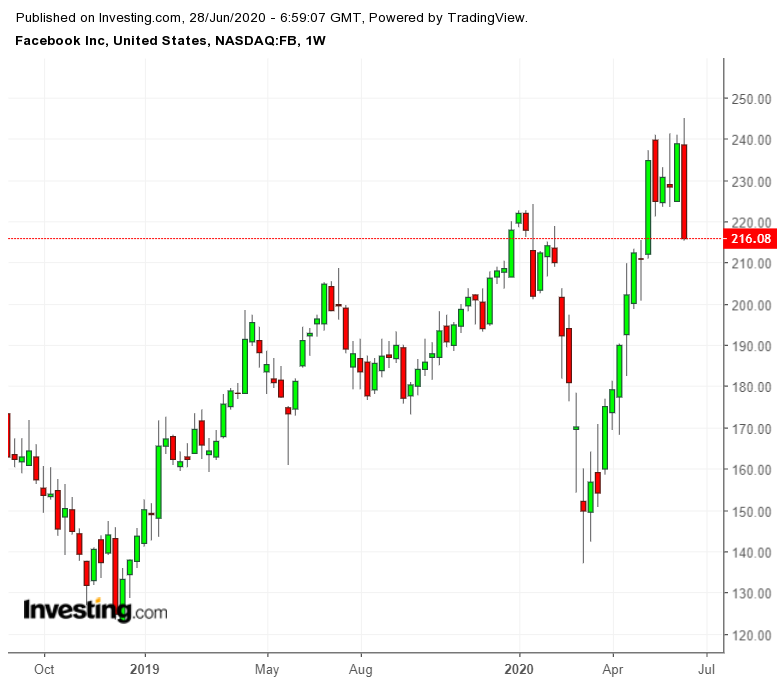 Shares of the Menlo Park, California-based company plunged more than 8% on Friday after an array of large advertisers announced they were halting their social media ad spending on Facebook after the social media colossus failed to remove hate speech from its platform.
Global brands taking part in this boycott include Unilever (NYSE:), Coca-Cola Company (NYSE:), Levi Strauss (NYSE:), Honda (NYSE:) and Verizon (NYSE:). The effort was launched in mid-June by a group of civil rights organizations that asked advertisers to 'pause' their ad spending during the month of July. The organizations include the Anti-Defamation League, the NAACP, Sleeping Giants, Color of Change, Free Press and Common Sense.
Facebook critics have said that the world's largest social media platform has failed to curb hate speech and disinformation on its properties. On Friday, Mark Zuckerberg tried to control the damage by announcing that the company would start labeling political speech that violates its rules and take other measures to prevent voter suppression and protect minorities from abuse.
If the campaign against Facebook accelerates, it could add selling pressure to Facebook stock which had gained 18% before the current crisis began. Shares closed at $216.08 to finish the trading week.
2. Micron Technology
Chipmaker Micron Technology (NASDAQ:) will report fiscal 2020, third quarter earnings on Monday, June 29, after the close. The storage chip manufacturer is estimated to have made $0.75 in profit per share on $5.26 billion in revenue.
Micron provided a strong sales forecast for in its May earnings update. The company told investors recently that it has come through the worst of a slump in the memory-chip sector.
Before the coronavirus outbreak, Wall Street was predicting a recovery in demand as the market for computer and smartphone components returned to growth. In April, Goldman Sachs downgraded Micron's stock to neutral from buy, saying, at that time, that the company's valuation fully reflected its growth prospects.
But upcoming results from Micron, the biggest U.S. maker of memory chips, may give investors some insight on how the semiconductor industry is performing, especially when most of the global economy is facing a recession. The stock closed at $48.49 on Friday, after falling more than 1% for the day.
3. Nike
Shares of sportswear heavyweight Nike (NYSE:) may remain under pressure this coming week, after the company reported a surprise loss in its . The world's largest athletic brand posted disappointing sales in the fiscal fourth quarter, hurt by its shuttered retail stores across the U.S. and much of the world amid the pandemic.
Revenue declined 38% to $6.31 billion in the period ended in May, well short of the $7.38 billion estimated by analysts. Its loss amounted to $0.51 a share, compared with a projection for earnings of $0.10.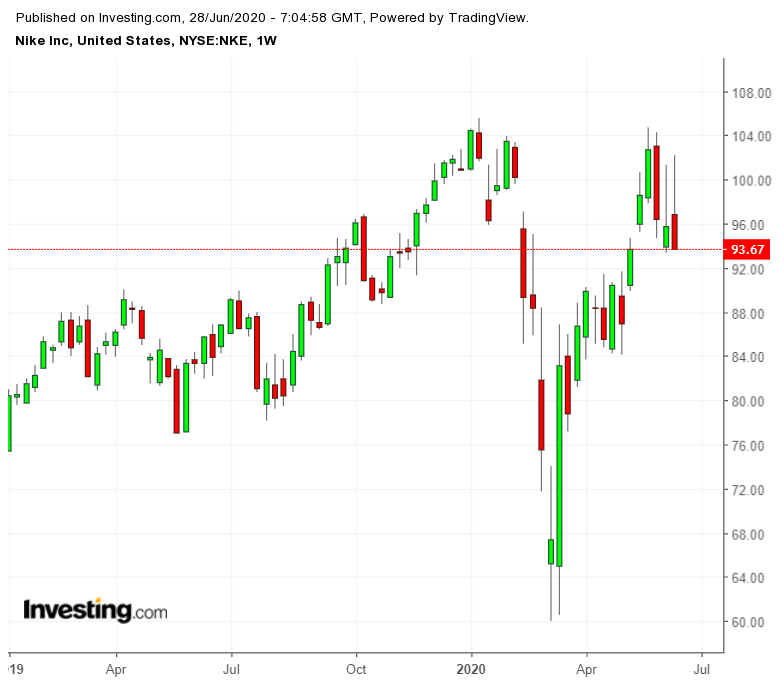 After Nike shares rebounded strongly from the March low, the stock fell more than 7% on Friday, closing at $93.67. Despite the surprising loss, Nike's e-commerce segment was booming; digital revenue surged 75% last quarter.
In a bid to ease fears about a prolonged slump, the company said about 90% of its global stores are currently open. The company also said sales for this fiscal year, which runs through next May, would rebound in the second half to be little changed or possibly posting a gain.