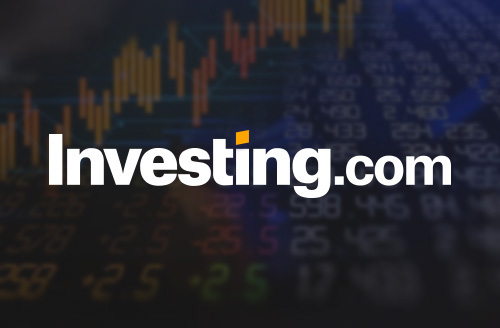 Once again Facebook (NASDAQ:)—the company and the stock—are under pressure. In an effort spearheaded by US civil rights groups to force the social media company to control the spread of hate speech and misinformation on its properties, a broad variety of global brands are pulling their advertising off Facebook's mammoth platform.
Investors are becoming increasingly nervous as the campaign's momentum accelerates. Their biggest concern: the financial outlook for the social media giant is becoming more uncertain, especially with the pandemic still raging, which has kept many businesses shut and their ad dollars unspent.
The company's shares reflect that unease. During the past five trading sessions, Facebook stock has dropped more than 8%.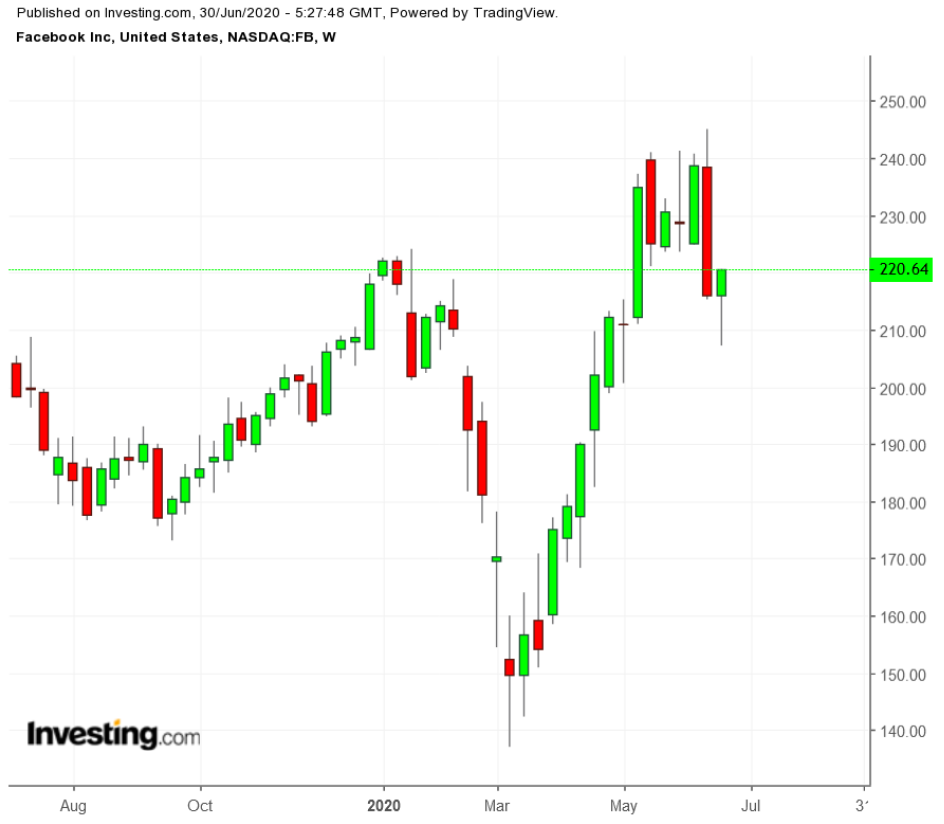 Over the same period, the number of global brands that have announced they are halting their ad campaigns on Facebook has snowballed.
After Unilever (NYSE:) and Coca-Cola (NYSE:) said they were 'pausing' their spending on Facebook, Starbucks (NASDAQ:), Levi Strauss & Co. (NYSE:) and PepsiCo (NASDAQ:) joined the boycott of Facebook and other social media platforms. Just yesterday, Ford (NYSE:) and Clorox (NYSE:) among others, joined the effort.
These brands are supporting the "#StopHateForProfit" campaign aimed at pushing Facebook and its peers to more effectively monitor and ban posts that glorify violence, divide and disinform the public, and promote racism and discrimination. According to the Wall Street Journal, based on a research note from MKM Partners which provided a link, there is a "spreadsheet that by the [Monday] evening listed more than 240 companies, organizations and individuals committed to the campaign."
Starbucks said Sunday that it would pause spending on all social media platforms while it carries out talks internally, with media partners and civil rights groups "in the effort to stop the spread of hate speech."
Stock Suffers, But What About The Business?
As mentioned above, Facebook's stock has reacted negatively to this high-profile effort to influence the company's editorial policy. Indeed, after reaching a record high of $245.19 last week, shares are now trading at $220.64 as of Monday's close.
For long-term investors, the primary question is how damaging these ad withdrawals could be for the company which is already seeing a substantial slowdown in its sales growth during the pandemic?
One major strength that distinguishes Facebook from other social media platforms is that its is highly diversified. It doesn't depend on big brands. While major advertisers like Unilever and Coca-Cola have garnered most of the headlines, the vast majority of Facebook's 8 million advertisers are small businesses, many of whom rely heavily on Facebook's global reach for their sales.
Last year, Facebook ad sales rose to $69.7 billion globally because of its millions of advertisers. For many businesses, especially those which rely on e-commerce and direct consumer contacts, abandoning Facebook isn't a possibility.
That's the reason that company's founder and CEO Mark Zuckerberg is focusing more on small businesses after the pandemic. Facebook is also making its properties more attractive, as a way to leverage the company's 2.6 billion user-base in order to promote fresh areas of growth.
New E-Commerce Initiative
As part of that effort, Facebook last month unveiled new e-commerce features on all of the company's social media properties—which include Messenger, WhatsApp and Instagram. This new initiative by Facebook mainly targets small businesses which are struggling because of the pandemic. This effort will allow merchants to set up their own e-tail stores on the Facebook and Instagram platforms.
Called Shops, the primary product is a new version of an existing Facebook feature with a similar name. It will let retailers upload product catalogs to their Facebook page or Instagram profile. Shops will, at some point, be accessible across the entire network, providing retailers with a direct line to Facebook's massive user base with one product catalog.
That said, the campaign against hate speech will have implications, but they'll likely be more damaging to the company's reputation.
"Given the amount of noise this is drawing, this will have significant impact to Facebook's business," Wedbush Securities analyst Bradley Gastwirth wrote in a research note that was published by Bloomberg.
"Facebook needs to address this issue quickly and effectively in order to stop advertising exits from potentially spiraling out of control."
A possible revenue hit from the big brands, combined with a global recession that's destroying many small businesses, could see mounting pressure on Facebook sales. The company is forecast to report just 1% revenue growth in the current quarter and a 7% jump in the third quarter, signalling a sharp reduction in Facebook revenue which often hits growth levels of more than 20%.
Bottom Line
If it faces additional ad bans and the boycott campaign extends beyond July, Facebook is likely to underperform other mega-cap tech stocks. Such a scenario could force Mark Zuckerberg & Co. to introduce more meaningful changes in order to check hate speech and misinformation.
That said, we see limited downside for Facebook from this negative development. There is no other social media platform as powerful to which brands could permanently shift their ad dollars.