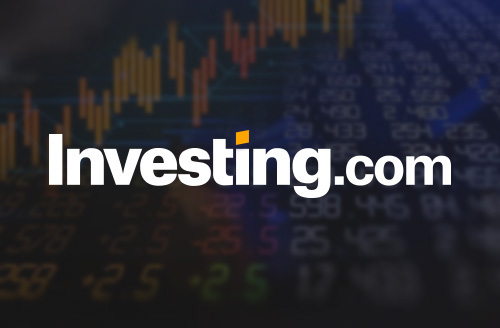 After staging a remarkable rebound since the March 23 plunge, the equity market has entered the third quarter with strong momentum on optimism that the worst of the pandemic-induced recession is over.
Investors bought stocks across-the-board after the U.S. Labor Department revealed on Thursday that were added to the economy in June, a much better reading than what economists were expecting.
The closed 92 points, or 0.36%, higher at 25,827.36. The rose 0.45% to 3,130.01 and the moved up 0.52% to 10,207.63.
Stocks had recovered by more than 36% from the March 23 low before investors became spooked by signs COVID-19 breakouts are escalating in some areas. As trading will focus on where things stand with U.S. economic strength next week, we're keeping the following three stocks on our radar:
1. Tesla
Tesla (NASDAQ:) is once again in focus. It's been one of the most successful trades this year, after the electric carmaker said its deliveries for the second-quarter have exceeded expectations.
On Thursday, the Palo Alto, California-based company reported that it handed over 90,650 cars to customers in the three months ended in June, exceeding analysts' average estimate for about 83,000 in a Bloomberg News survey. Tesla delivered about 88,400 vehicles in the first quarter.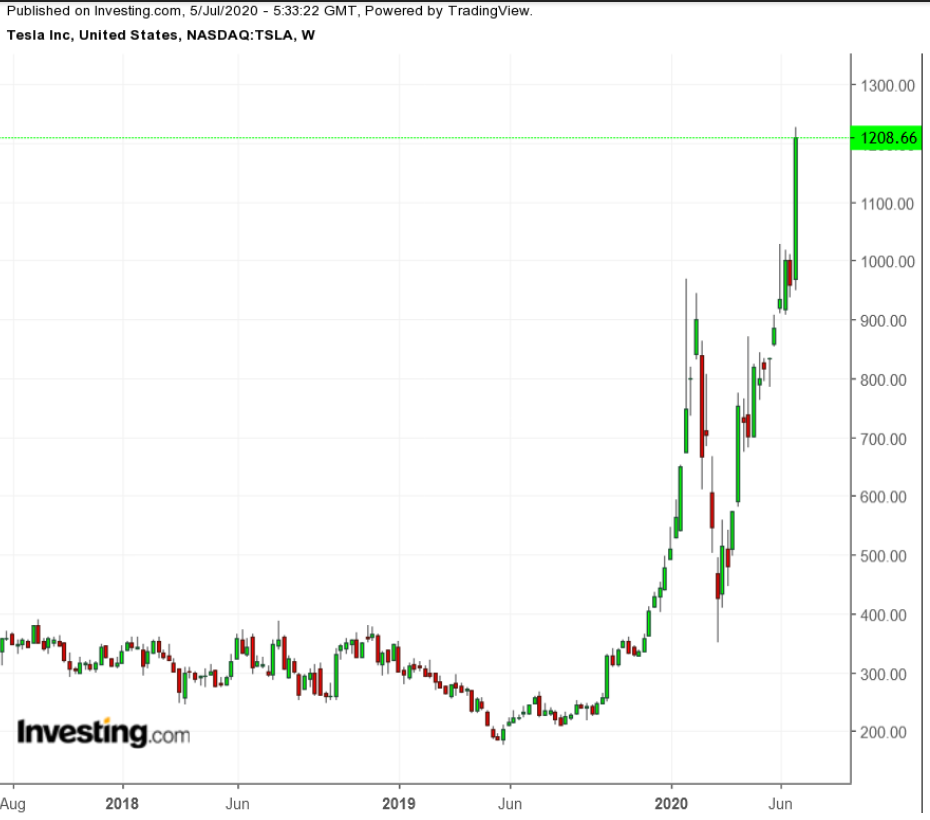 Tesla shares surged about 8% on the news, jumping to $1,208.66, nearing the $1,250 target set Thursday by Wedbush Securities. The stock is on the verge of tripling this year.
That performance is even more commendable when, during the same period, both Ford (NYSE:) and General Motors (NYSE:) saw their U.S. deliveries decline by a third.
2. Walgreens
Walgreens Boots Alliance (NASDAQ:), the second-largest pharmacy operator in the U.S., will report Q3 2020 earnings on Thursday, July 9, before the market opens. Analysts expect an EPS of $1.20 a share in the quarter on revenues of $34.3 billion.
The Deerfield, Illinois-based company benefited from COVID-19 related lockdown measures as U.S. consumers raced to stock up on drugs, cleaning supplies and toilet paper. But company executives indicated in their that they doubted whether this trend will continue to benefit the drug chain as the economy reopens.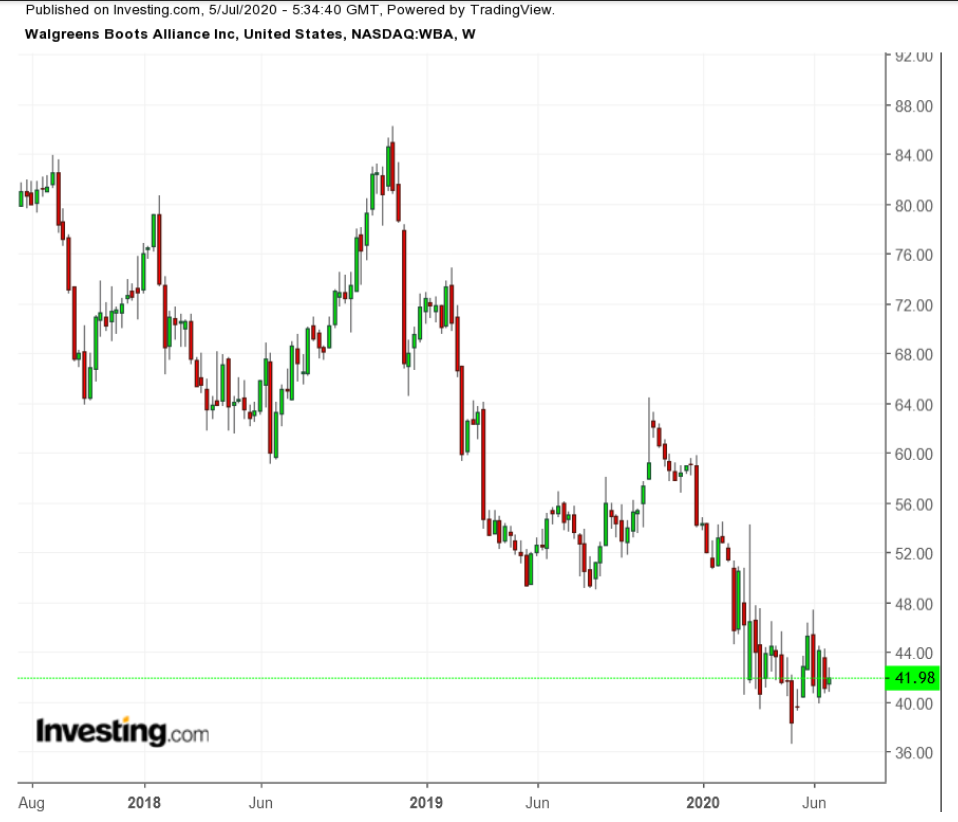 Before the pandemic, Walgreens was struggling to boost sales and had implemented a cost-cutting drive as its market share came under pressure with growing competition from Amazon (NASDAQ:) and other segment players.
Part of these efforts include bolstering its digital strategy and making deliveries free through its website while also expanding a partnership with delivery service Postmates.
Walgreens shares have massively underperformed the broader market this year, falling 29%. The stock closed on Thursday at $41.98, after rising almost 3% for the day.
3. Bed Bath & Beyond
Embattled home furnishings and housewares giant, Bed Bath & Beyond (NASDAQ:) reports its fiscal Q1 earnings on Wednesday, July 8 after the market close. Analysts expect the retailer to produce $1.25 a share loss on sales of $1.39 billion.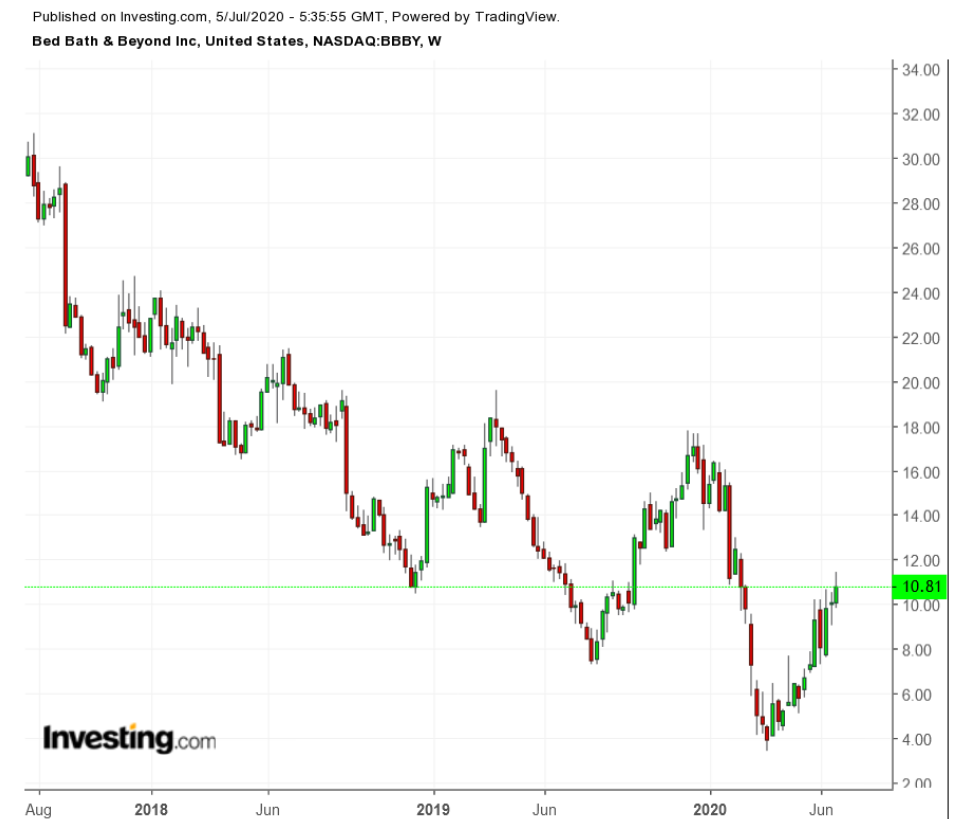 The retailer is in the middle of a after failing to revamp its business model in order to survive the onslaught of e-commerce giants. Earlier this year, Bed Bath & Beyond replaced several directors, including the chain's co-founders, amid pressure from activist investors.
As well, it announced a series of layoffs in select stores across the country. In addition, it has been conducting a strategic review of its portfolio of roughly 1,500 stores.
The company's earnings will also provide some insight into customer patterns as some states move ahead with their reopening plans and consumers spend more on home improvement products. BBBY shares closed on Friday at $10.81, after falling 37% this year.