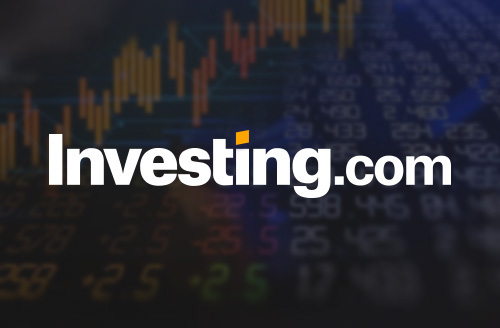 Tesla's (NASDAQ:) current stock market performance bears no resemblance to that of other companies that manufacture cars. Shares of the electric carmaker are on the verge of tripling for the year, at the same time that the US's largest auto makers are struggling to survive the coronavirus-triggered demand shock caused by the severe drop in consumer spending.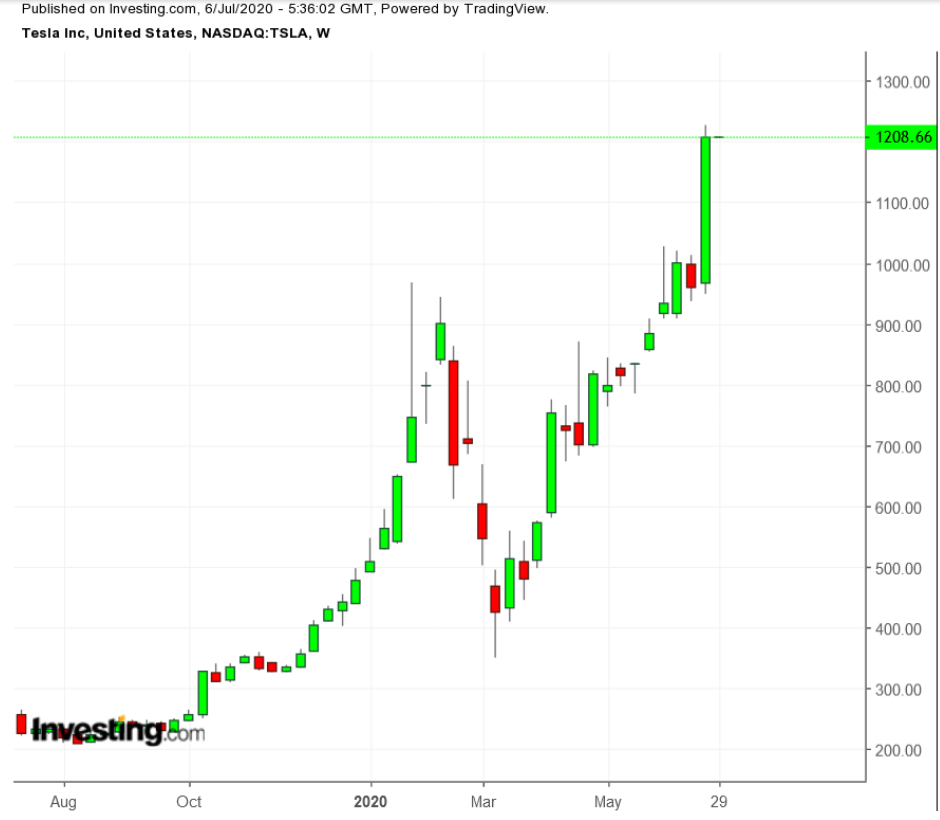 Just a year ago, Tesla shares were trading around $235, giving the Palo Alto, California-based electric vehicle maker a valuation of about $40 billion. Fast forward to this past Thursday's close. The stock is now priced at more than $1,208.
With a current market capitalization of $224 billion, Tesla has surpassed Toyota (NYSE:) as the world's most valuable auto manufacturer.
There are many factors that contributed to this remarkable turnaround. Perhaps the most significant: Tesla's growing ability to sell electric cars for more than they cost to put together. A recent email to employees from founder Elon Musk indicates that Tesla could be on the cusp of producing a possible break-even quarter, covering a period when Tesla's main California plant was shut by the pandemic for much of the spring.
Adding additional fuel to Tesla stock's incredible momentum was the company's quarterly sales data, released Thursday, that showed the company delivered 90,650 cars to customers in the three months ended in June, exceeding analysts' average estimate for about 83,000.
Tesla shares surged as much as 9.7% to $1,228 after the news. The stock closed at $1,208.66 ahead of the holiday weekend. These gains have swelled the valuation of Tesla shares, which now trade at 320 times the analyst-estimated earnings for this year. In recent history, no carmaker has fetched valuations as rich as Elon Musk's Tesla has produced.
Yet a year ago, Tesla was in a deep crisis. It was burning cash; its bond yields were soaring and its retail strategy was in disarray. As of March 2019, the carmaker had just $2.2 billion of cash, compared with more than $8 billion now. How then did the company get to this lofty position so quickly?
Clear Lead In EV Market
One major element which helped produce the quick turnaround in Tesla shares was the realization by the investor community that competitors would find it difficult to challenge Tesla anytime soon, given the company's significant dominance in the electric vehicle market.
According to Cairn Energy Research Advisors, a consulting firm specializing in electric vehicle battery research, Tesla has a clear lead in building more powerful batteries and at a lower cost. Tesla's engineering advantage is the automaker's use of more advanced cylindrical battery cells and its battery management system, the software that controls a vehicle's battery pack.
Wedbush Securities analyst Dan Ives, who has the Street's highest price target for Tesla, $1,250, believes that the recent run-up in its shares is justified, given the expected acceleration in sales of EVs over the next 12-to-18 months, along with major battery innovations coming out of the company's Giga 3 battery plant.
"In our opinion, a 90k delivery number in this COVID lockdown environment is a jaw-dropper and the bulls will run with this as a potential paradigm changer moving ahead," Ives said in a note last week.
"China appeared to be the star of the show and was a major source of strength in 2Q based on our analysis and industry data."
Ives said that demand out of China for the company's Model 3 "remains a ray of shining light for Tesla in a dark global macro."
In our view, these wins, along with the company's lead in the EV market notwithstanding, Tesla's valuation remains impossible to justify by any standard metrics. Analysts' average price target is more than 40% below the current level.
Even CEO Musk has suggested that the share price is too high. At about 90k cars delivered in the second quarter, Tesla is behind where it was a year ago when it had reported more than 95,000 vehicle deliveries for the same period.
released in April showed a small $16 million net profit, thanks to a record $354 million in regulatory credit sales. Tesla reported negative free cash flow of $895 million in the quarter and didn't reiterate guidance issued back in January, when the company said it would "comfortably exceed" 500,000 deliveries.
Bottom Line
Shorting Tesla has proved to be a losing bet this year, but investors should note that the company's stock is now likely priced to perfection. As such, it's not a bad idea to take some risk off the table if you have a stake in the company.
Remember, Tesla's journey to its current level hasn't been a straight line higher. Since 2018, there have been two waves of selling, each of which pummelled investors, as the stock fell by around 50% every time.