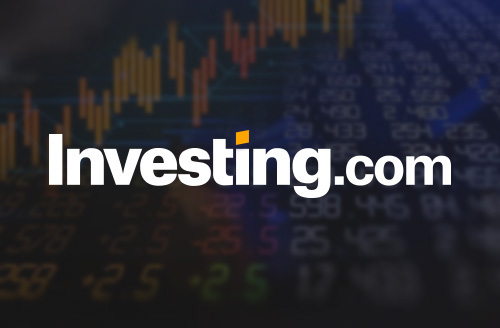 With markets entering an uncertain phase before the November U.S. Presidential election, it's important for long-term investors to look for opportunities if stocks enter another deep slump.
The fell 3.5% Wednesday, the biggest drop since June 11, amid a surge in COVID-19 hospitalizations and as millions of voters get ready to pick the next leader. This sell-off may further deepen if the pandemic lingers and forces the new administration to roll back the measures to reopen the economy. The index bounced back slightly yesterday, closing up just over 1%.
Even though stocks have many big swings in recent months, investors should still focus on those factors that produce long-term returns: dividend yields, earnings growth and change in valuation. In addition, any potential weakness in stocks may create another opportunity for income investors to buy some top dividend names that have become expensive after the strong upward move since the March dip.
Below, we have short-listed three stocks that you should keep under your watch to buy when they become cheap if markets take another plunge.
1. McDonald's Corp
One of the world's largest fast-food chains, McDonald's Corp. (NYSE:) has had a great run since plunging in March. Its stock is up 73% since Mar. 18, outperforming the .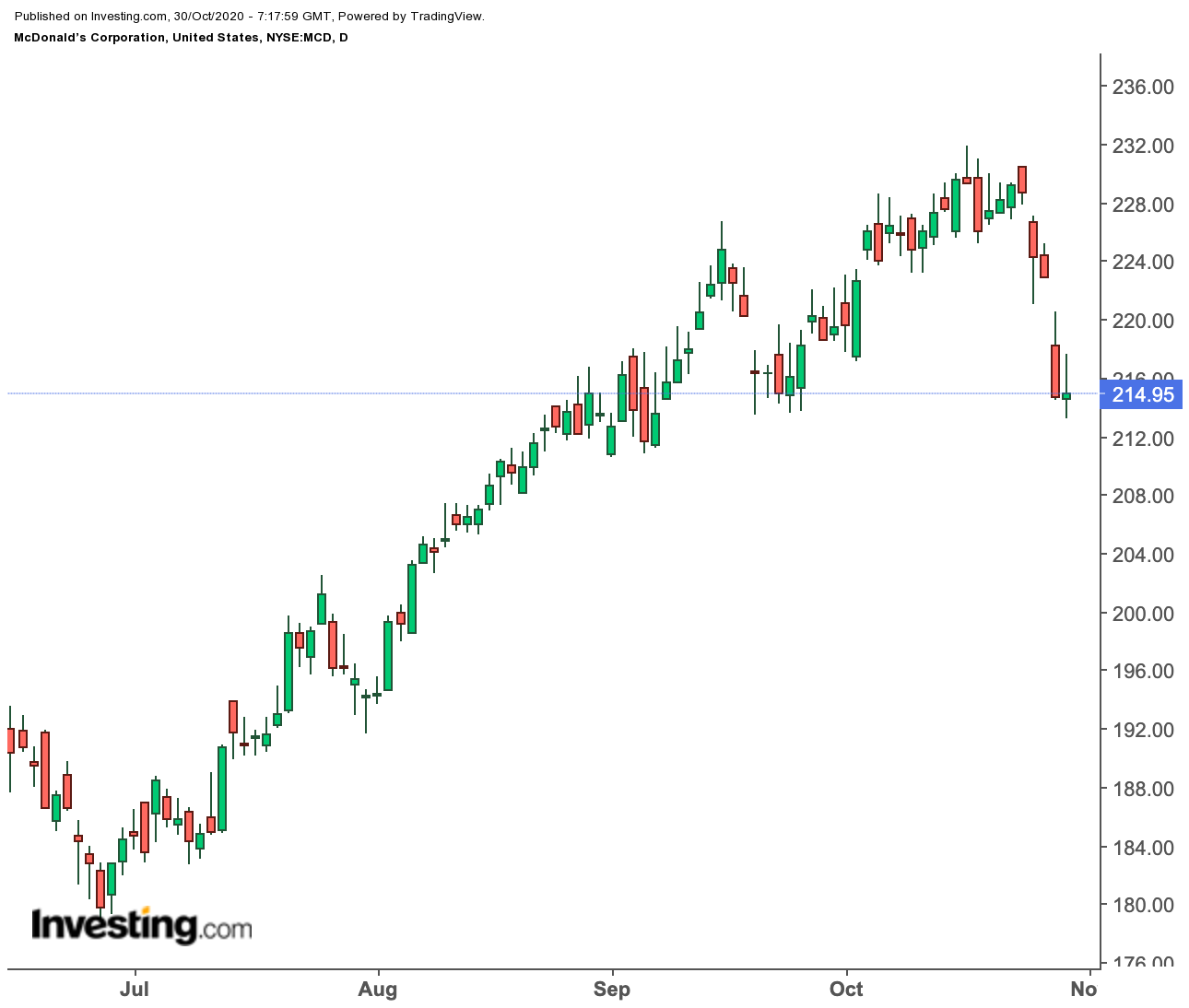 One reason for this strength is that MCD performed much better than most restaurants during the pandemic, helped by its massive network of drive-thru locations. Earlier this month, the company reported comparable sales were positive throughout the ended on Sept. 30, benefiting from strong average check growth from larger group orders as well as strong performance at the dinner time of the day.
Said McDonald's CEO Chris Kempczinski in a statement this month:
"Our third quarter performance demonstrates the underlying resilience of the McDonald's brand. Our unique strengths, including our unrivalled drive-thru presence around the world, advanced delivery and digital capabilities, and marketing scale have become even more important during the pandemic."
With this operational strength, another most important factor to look at when picking a dividend stock is the company's stability when it comes to paying dividends. The company has raised its payout each and every year since 1976, when it first started paying dividends.
With the current dividend yield of 2.31%, MCD stock now pays $1.29 a share quarterly after a 3% hike this month.
2. Home Depot
The home-improvement giant Home Depot Inc (NYSE:) proved to be a great beneficiary during the pandemic lockdowns, when people stuck in their homes spent more money on home renovations. Since the March plunge, Home Depot stock rebounded strongly, gaining about 80%.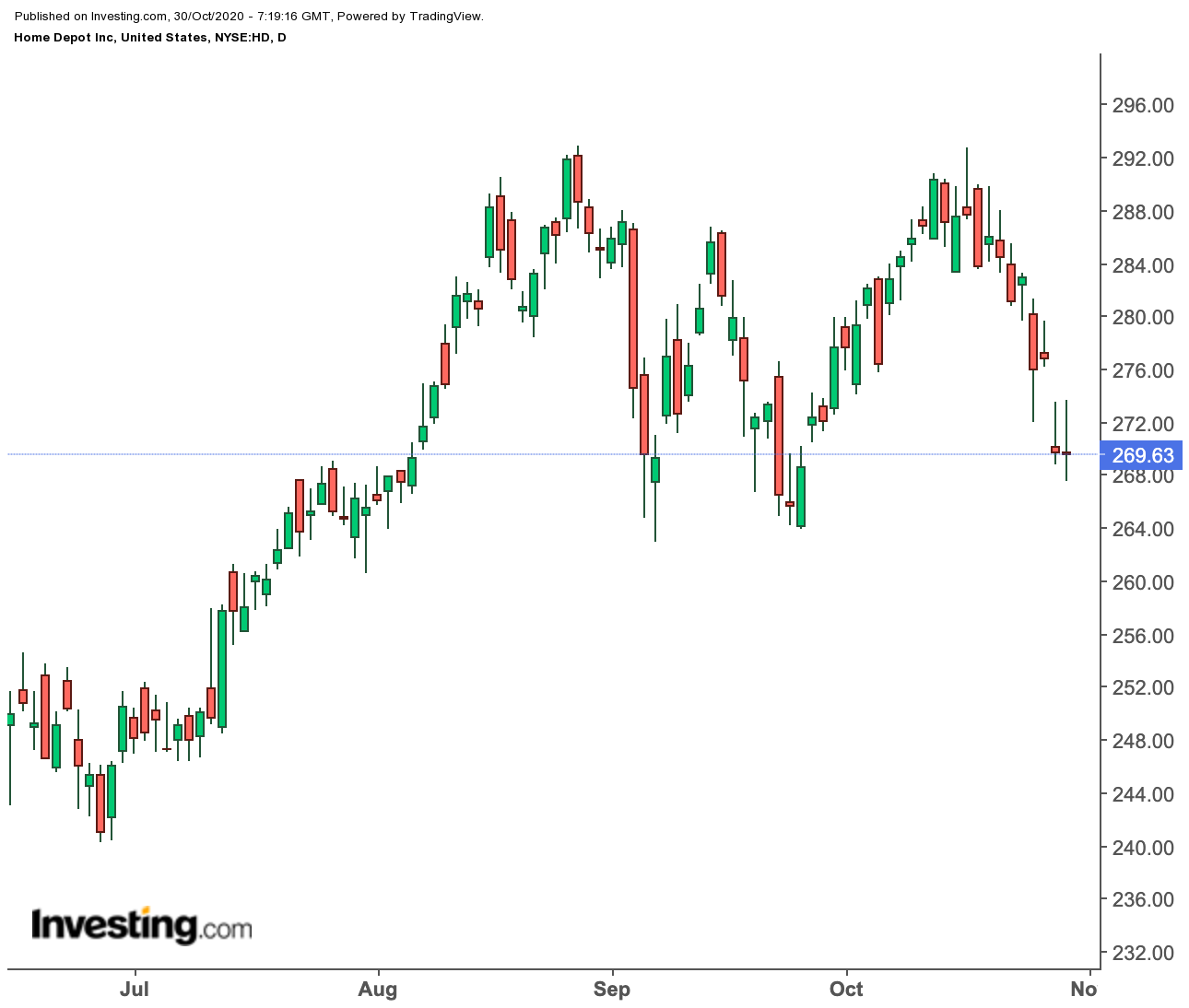 Home Depot said in August that its same-store sales in its fiscal soared 23.4%, fuelled by lockdowns and soaring house prices.
"The investments we have made across the business have significantly increased our agility, allowing us to respond quickly to changes, while continuing to promote a safe operating environment," said CEO Craig Menear in the earnings statement.
After this massive move to the up side, HD stock looks expensive to some analysts. But if you're a long-term income investor, HD stock should be on your radar as it's one of the best income producers in both good and bad times.
Shares closed yesterday at $269.92, up ever so slightly on the day. The stock yields 2.17%, paying a quarterly dividend of $1.5 a share. These payouts have grown 23% per share during the past five years.
3. BCE Inc
Telecom utilities are considered reliable dividend stocks due to their solid cash flows and recurring revenues. They also become attractive when bond yields plunge. In this space, we prefer Canadian telecom stocks over their southern peers due to stability in their income and higher yields.
With the central bank on the sidelines for the foreseeable future, their high-dividend yields and growing payouts are offering an attractive preposition. Among Canada's big three telecom companies, BCE Inc. (NYSE:) (TSX:) is a solid dividend stock to consider for the long-term income potential.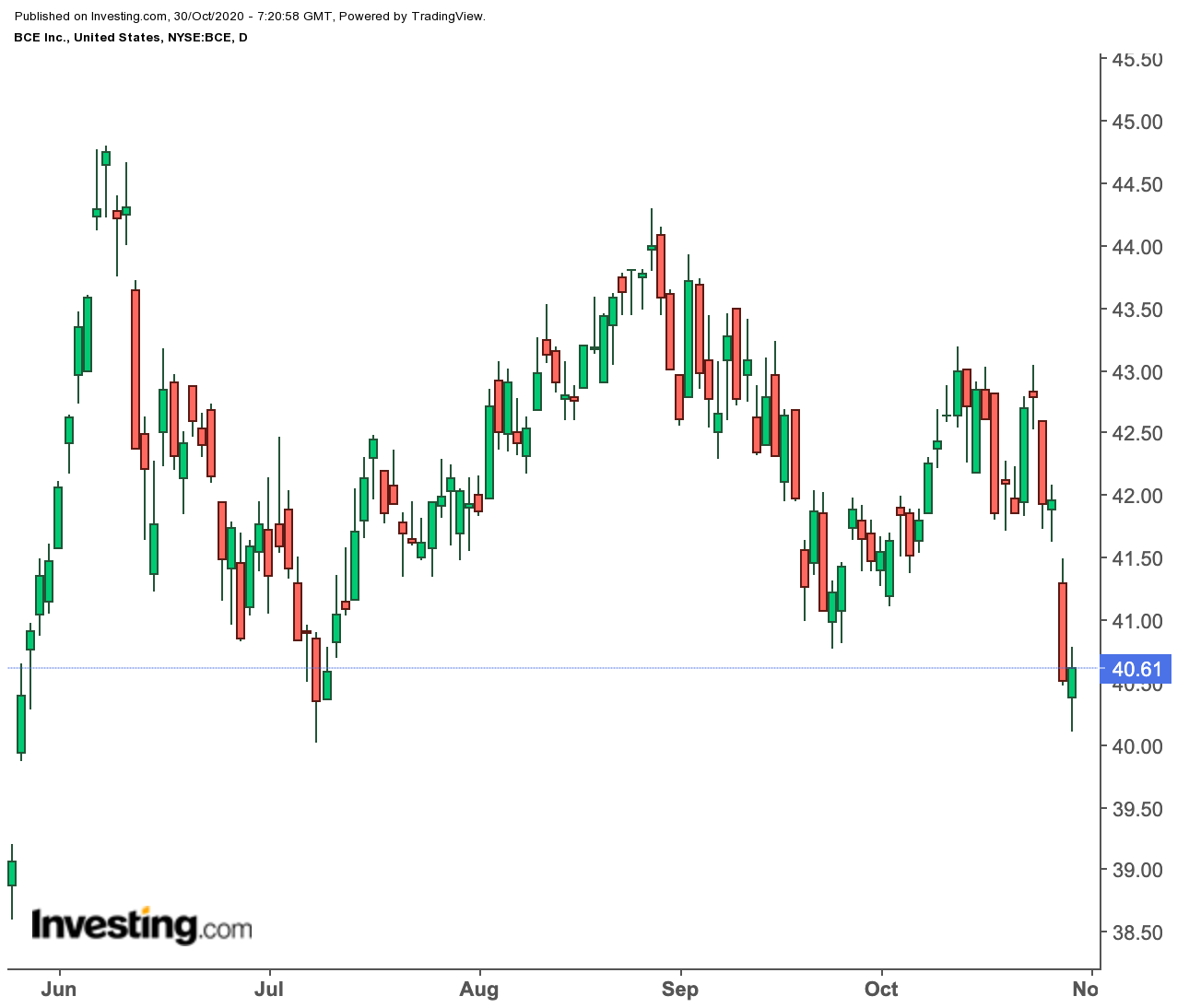 Though BCE's are under pressure due to the pandemic-induced slowdown, its cash generation is still strong with its growing number of wireless subscribers.
The stock is currently trading at $40.15, with an annual dividend yield of more than 6%. The operator has an impressive track record of paying dividends, distributing between 65% and 75% of its free cash flow in payouts. During the past 10 years, its dividend doubled to $0.6325 a share.